What is a gear dry grinding?
2021.03.30  cutting tools、industry4.0、machine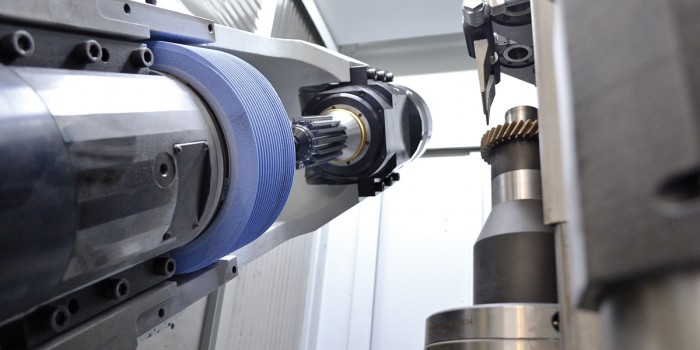 Gear dry grinding is the new state-of-the-art process for gear manufacturing thanks to the elimination of cutting oils during the process, gear dry grinding has marked an importantbreakthrough.
In the last years, a constant attention towards global environment has affected all sectors of our lives, including mechanical engineering. Thereby, many manufacturing companies have invested in R&D in order to design and manufacture more sustainable and environmental friendly solutions.
Gear dry grinding, carried out by the SG 160SKYGRIND, has been presented for the first time at the EMO 2015 in Milan by Samputensili Machine Tools. Thanks to this innovative machine, it is now possible to have a completely dry production when manufacturing gears.
Gear dry grinding is an extremely productive process. Most of the stock allowance is removed through a skiving hobbing tool in the first phase, and in the second phase a grinding wheelremoves the rest. Both phases do not cause any problem of overheating the workpiece, thus enabling a complete elimination of cutting oils. Moreover, the gear dry grinding machine SG 160 SKYGRIND has a state-of-the-art structure made up by two work spindles moved back and forth through independent linear motors for a quick workpiece changeover. This machine configuration ensures a chip-to-chip time of less than two seconds.
The gear dry grinding machine has a very small footprint and is extremely environmentally-friendly.
The main advantages of gear dry grinding are:
・No cooling oils needed, with a consequent saving of up to 30% of machine maintenance costs
・Reduced environmental impact and a safer working place
・Same performance as traditional process at lower costs
現場でお困りの方を
徹底的にサポートします!
ソリューション、製品に関する
お見積もり・お問い合わせはこちらから
まずは、お気軽にご相談ください!
当社への貴社商品・サービスのご紹介営業につきましては、お問合せ・ご相談フォームにてご連絡下さい
お電話はこちら TEL : 078-335-7573
営業時間 : 9:00-17:00(平日)